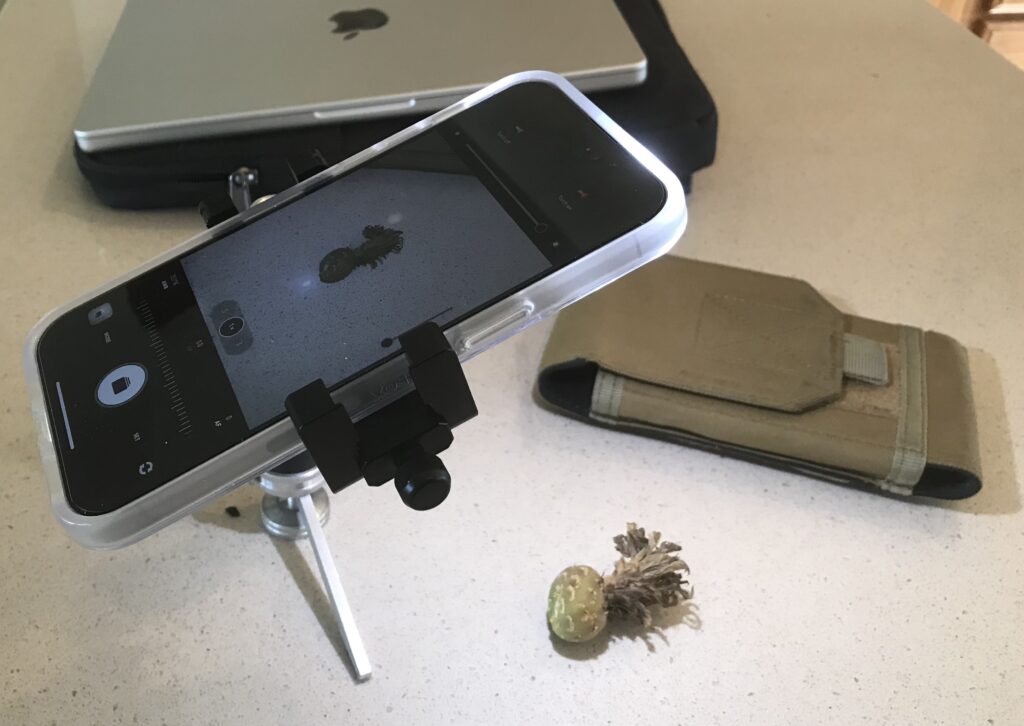 As it turned out, the hardest part about trading up to Apple's newest and biggest iPhone was actually getting one successfully delivered to our house. I had a perfectly good iPhone 12 Pro Max, but the descriptions and reviews of the 14 claimed a dramatically improved camera and a brighter screen, perhaps usable outdoors in Southern Arizona. With the 12 and its predecessors I had to hold the phone in shade, still having to look close. When taking photos outdoors I frequently pointed the phone in the right direction, then hoped to distinguish the shutter button well enough to press it. It was vaguely near my birthday, so my wife contributed and I called it our joint present for my 70th birthday. I planned to trade in the 12, for which Apple would credit me $530.
Relative carriers, we're a house divided.  I use Verizon and my wife uses AT&T.  Sometimes that's handy when we're someplace where one phone works and the other doesn't.  We had both bought our iPhones through those carriers in the past.  In early 2021 issues my wife was having with AT&T and her ancient iPhone caused us to buy her a 12 Mini directly from Apple on the website, latch it to AT&T, then trade in the old one for $10. Likewise, in the spring of 2022, I purchased a Mac Studio and a Studio Display from Apple's website to replace a 2012 27 inch iMac as my primary computer.  No delivery issues. These transactions worked so well that I decided to pay off my 12 Pro Max balance with Verizon, then buy the 14 Pro Max directly from Apple. On September 28th, I placed an order for a silver 512 GB iPhone 14 Pro Max.  I didn't pay any attention to the shipping address since Apple had known where to send the Studio and Studio Display.  Apple warned it would be 3-4 weeks.  What could go wrong?
Quite a bit as it turned out.  When I got Apple's order-has-shipped note, I saw they were sending the phone to an old address of my son's in Massachusetts, not to me in Arizona.  I was mystified.  I have a UPS login, so I can track shipments from their side, which turned out to be quite helpful.  I contacted Apple, they contacted UPS, UPS got the intercept and change request.  Nevertheless, the phone continued toward the Massachusetts address.  It arrived there, where it disappeared in or near a UPS distribution center after two delivery attempts.  Apple sent a replacement to my correct address in Arizona.  That one got here, then wandered the streets in my neighborhood in a UPS delivery truck as I watched on the GPS-enabled delivery tracking map.  It never arrived, instead disappearing in or near the distribution center here.  Apple has filed claims for both, UPS has declared one lost so far.  For the third try, Apple once again had UPS send a phone (nicknamed the Prodigal) to Massachusetts, despite having told me they had fixed the shipping address.  After some back and forth with several reps, I was put in touch with an Apple manager.  She first led me to my iPhone 12, Settings, Wallet, Transaction Defaults, Shipping Address.  First listed was my address, then my son's old address, then a second copy of my address.  I deleted the son's address.  I have no memory or record of having Apple send the son anything at that address.  That address didn't show up in my account information on the Apple Store's website.  Then the manager had Apple send me a fourth phone.  It arrived the next day.  Meanwhile, the Prodigal went out on a delivery attempt in Massachusetts, then an address correction was attempted by UPS.  It journeyed to Warwick Rhode Island, then back to Massachusetts, then back to its point of origin in Ontario California.  It left, and someone signed for it in Fontana California.  Presumably it was redeployed to a happy Apple customer.  During all this, the trade-in offer for the iPhone 12 expired.  I contacted Apple, who restarted the offer and sent me a new trade-in kit.  I sent it off a couple of days ago.  The old phone has left Goodyear AZ on a truck to Pennsylvania, as intended.  I'm a former computer network designer, so working with tech and customer support isn't difficult for me.  It was sort of comical at first, but wore on after the 10th phone call (or so) to Apple and UPS.  All reps were quite nice and tried to help.  I started commenting in a cheery tone to the Apple reps that Apple had my money and I didn't have my phone.
All this aside, now I have a nice new iPhone 14 Pro Max. I've always preferred the biggest screen. I clothed it in an Otterbox Symmetry Series Clear Case and a ESR Tempered Glass Screen Protector. I use a belt holster as well. The similarly protected 12 survived 2 years without a scratch, despite going on some rough excursions on feet and bikes (https://medium.com/@ross-zimmerman/the-racetrack-4355790d31d9).
I've read several reviews of this iPhone, as well as other Apple products.  Mark Ellis' were the most useful of the general reviews (https://medium.com/@markellisreviews), although he didn't say much about the 14 screen.  He's based in Britain somewhere, so I suspect screen brightness isn't a big factor.  I can read the 14's screen fine in full sun in Arizona, but it's November.  We'll see next summer when the sun is directly overhead very bright.  Then the temperature can be around 110, which tends to cause phones to shut down too if exposed to direct sun for too long.  I doubt that will change.  I noticed the Dynamic Notch for about 10 seconds, then forgot about it.  The sound quality is noticeably better than the 12.  I immediately turned off the Always On display, since I carry the phone in its holster, while the connected Apple Watch on my wrist shows me what the phone wants to communicate to me.  I frequently view texts or answer the phone using the watch.
The camera system in the 14 Pro Max (also in the smaller Pro) is what shines, at least for me.  The top end Samsung and Google Pixel phones have comparable or even better camera hardware specs, but there's a lot of processing applied to the raw sensor output to generate images, with differences in design approach to that.  Some reviewers go so far as to say this is the best camera system of any smartphone (https://www.tomsguide.com/reviews/iphone-14-pro-max).  Some photography professionals even say it can be compared favorably to full sized DLSR cameras (https://lux.camera/iphone-14-pro-camera-review-a-small-step-a-huge-leap/).  Its predecessor the 13 introduced Macro mode, improved in the 14.  I was impressed when I put the phone close to an object and it focussed, unlike the 12.  I'm learning more about that, and a technique called "focus stacking" because I'm affiliated with the University of Arizona Insect Collection (https://uaic.arizona.edu/), helping them with some technologies.   In particular, an old, unsupported Visionary Digital imaging system there uses focus stacking to make gigantic image files of specimens.  I'm wondering whether the 14 can generate comparable images.  Although the 12 had a ProRaw setting, it still only had a 12 megapixel (MP) sensor.  The 14 has a 48 MP sensor, although by default it only uses 12 of that in non-RAW mode, i.e. HEIC or JPEG.  When you enable Raw in the upper right corner of the Camera app, the main camera will generate DNG format files using either the partial 12 or the full 48 MP of the sensor depending on what is chosen in Settings for the Camera app.  The Lux review in the link above explains some of this in considerable detail.  The reviews all comment that the huge photos and videos can quickly fill storage, so I'm glad I got the 512 GB model.
One topic not covered in most reviews that interests me is the Global Positioning Satellite (GPS) receiver circuit in the 14 Pro and Pro Max. I've used GPS receivers for about 25 years, originally to estimate distances and create maps for the Tucson Trail Runners (https://www.ttraz.net/routes– probably about half these maps were ones I made). All smartphones have a GPS circuit, but the tracks I generated with an iPhone were less accurate than those from my Garmin 64s GPS (https://www.garmin.com/en-US/p/140022). The 14 Pro and Pro Max can receive L5 signals from the new generation of satellites, which improves accuracy, in addition to the L1 signals sent by previous generations (https://www.xda-developers.com/apple-iphone-14-gps-support/). I'll experiment, I suspect. My go-to app for knowing where I am in the real world is Topo Maps, which shows my location on USGS topographic maps downloaded to the phone (https://apps.apple.com/us/app/topo-maps/id306014271). Since the maps are on the phone, they work when I don't have cell service, like in the mountains around here, or in Death Valley (https://www.lakemanly.org/the-valley-and-the-lake/death-valley/).
I take a lot of photos out in nature. I find myself wanting to get more adept with the 14's camera system. I'm experimenting with the CameraPixels photography app, which gives more control than the Camera app, plus does focus stacking exposures. I'll never be in the same league with the professionals, like my artistic photographer wife who teaches classes in the subject. They see things that I can't easily discern unless it's pointed out. I have been told I'm good at framing pictures, and I like to go places that are visually interesting. I might write more about this as I learn interesting things. In the meantime here are some photos I've taken to test capabilities.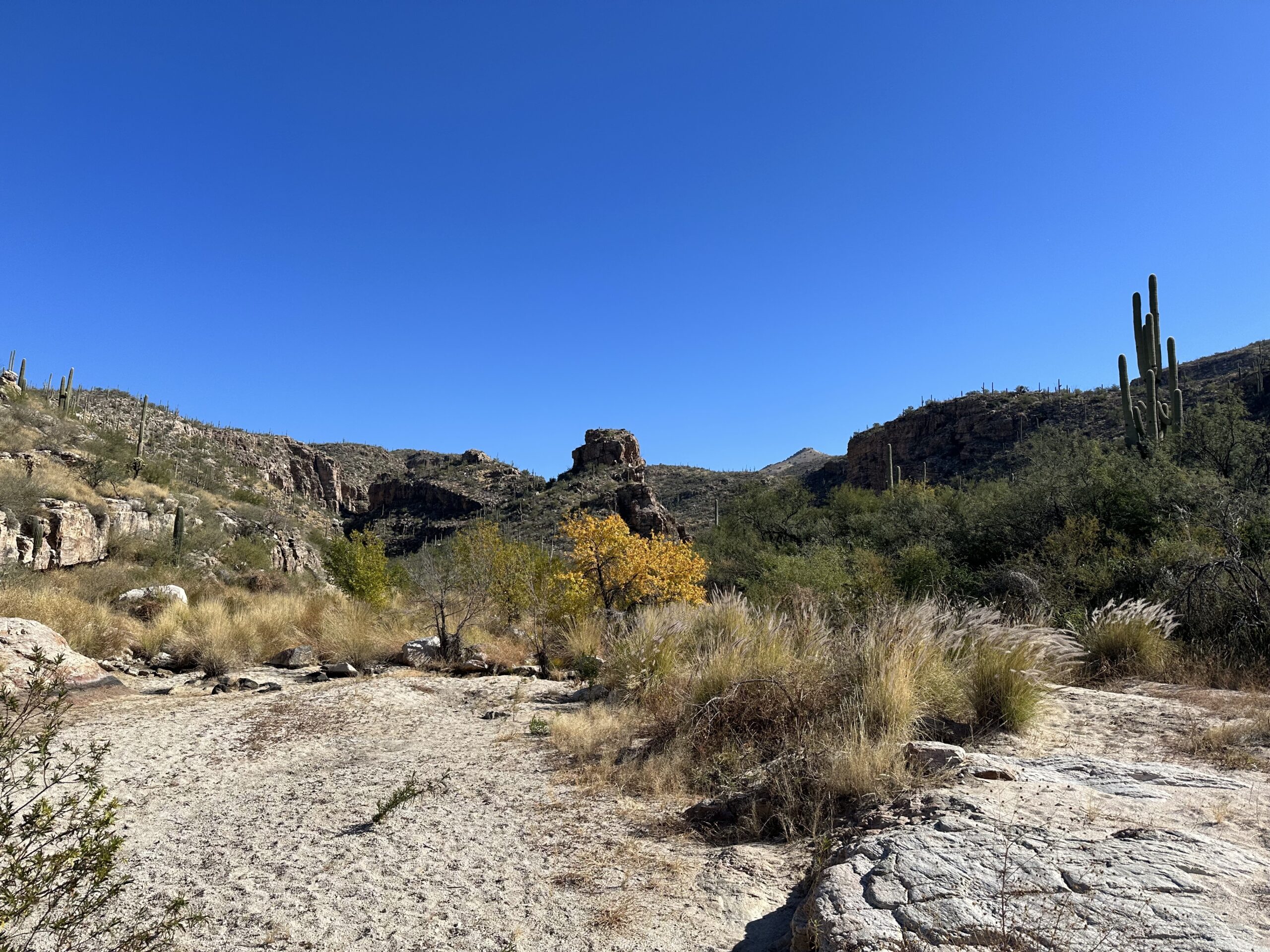 This is a canyon about 3 miles from our house that I ran to last Sunday.  I took this photo in HEIC mode (12 MP) and DNG mode (48 MP) to compare.  The HEIC image file was 3.4 MB, the DNG 91.1 MB.  But what does DNG get you?  I'll open the files, zoom to Actual Size in Preview, then make a pair of screen shots.

Clearly there's more detail possible in the DNG file on the left.  For most purposes, like sharing images on social media, in a Medium article, or on this website, the smaller HEIC (which can be set to JPEG for compatibility) images are just fine. Some color accuracy and detail potential differences really show up with a pair of anthills I photographed on the way to the canyon.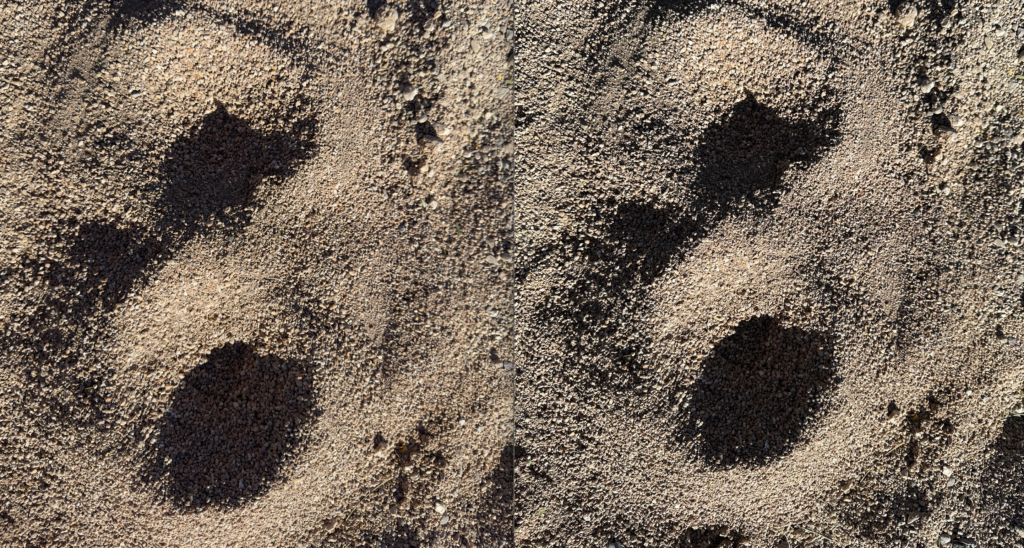 While there's not much detail difference at this range, the DNG photo looks more like the colors I saw. Now let's go to Actual Size.

The DNG image on the left has much, much more detail available. Relative to my insect interests (I have a Ph.D. in entomology.), here's a comparison of two photos of a grasshopper, genus Schistocerca.

The DNG image on the left is larger when viewed at actual size, and it also has more detail.  That doesn't show up well in the small pictures on this page, but you get the idea.
Overall, I'm surprised by how much I like the iPhone 14 Pro Max. It's a big improvement in several aspects that are important to my work and play. That continues a trend, since I've replaced my old iMac with an M1 Max Studio Mac/Display combo, and my not-so-old Macbook Pro 15 inch with an M1 Pro Macbook Pro 14 inch. I like the new Macs and the Studio Display more than I anticipated as well.